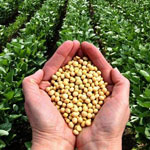 Home

How to get the best Soybean produce
How to get the best Soybean produce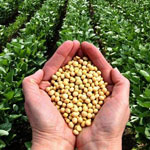 Soybean is one of the most important crops in India. If you follow the right procedure and modern farming techniques, this crop will surely give you maximum returns in just 4 months. Mr. Prashant Patil from Sangli has produced a whopping 28 quintal per acre of soybean. Here are a few important farming tips from Mr. Patil that will help you get a good soybean produce –
Know the type of your soil: Soybean requires well-drained and fertile loamy soil. In order to prevent damage from water logging, it is recommended to have proper drainage system during the rainy season.
Examine the seeds well in advance: Purchase seeds a few days before sowing them. This will help you in analysing the germination capability of the seeds. The recommended germination for soybean is around 70%.
Seed rate: Ideally, the average seed rate is around 16 Kg per acre. However it varies depending on various factors such as seed size, germination, percentage and sowing time.
Seed treatment: It is advisable to use 250 gm rhizobium and 250 gm PSB per 15 Kg soybean seeds. Caution: after adding rhizobium and PSB, don't rub the seeds by hands as it can damage the coating and invite fungal diseases.
Fertiliser management: Sulphur and Phosphate are two of the most essential nutrients for Soybean. To fulfill this requirement it is recommended to use Single Super Phosphate and Bensulf. Mr Prashant Patil used 10 Kg Mahadhan Bensulf per acre and got excellent results.
Weed control: The spraying of weedicides must be done within 2 days of sowing. Carry out manual weeding after 2 weeks.
Pest and disease control: Spray pesticides within 10 days to protect your crop from pests and diseases. In addition, it is advisable to use Mahadhan 19:19:19. 12:61:00 and micro nutrients to provide the essential nutrition to your crop during its growing period.
Drip irrigation: In case of less rainfall, it is recommended to use sprinkler irrigation. This has resulted in a good output for Mr Patil and has increased the produce by around 25%.
To know more about soybean farming and benefit from useful tips, visit www.mahadhan.co.in