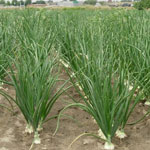 Home

Important Tips On Onion Farming
Important Tips On Onion Farming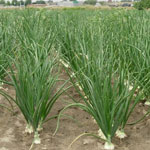 Mr. Geete and his three sons carry out onion farming in the water-deficient district of Ahmednagar. The Geete family is the perfect example of how education and knowledge of modern farming techniques can revolutionise farming. Here's what they did to get more production –
Water supply: Despite having 3-4 wells and borewells, crops could not get enough water and hence the production suffered. To deal with this problem, first they created a water reservoir with more than 5 Crore litre capacity. In addition, to ensure proper supply and minimise water wastage, they adopted drip irrigation system.
If you wish to export onions, here are a few things you should take care of –
Onions should be ripe
They must be properly dried
The size and colour of onions should be similar
Make sure there are no doubles.
Ensure maximum storage capacity
Geete family has been using Mahadhan's 24:24:0 and Bensulf fertilisers for their crop and are very happy with the results they have got. However, onion crop is very sensitive to fertilisers and it is recommended to use the right amount of fertilisers.
Now you can easily calculate the right quantity by using the dosage calculator feature on Mahadhan App. To download the app, visit – Click Here
A quick glance at the basic requirements of onion –
Onions grow well in well drained, fertile, sandy loam, non-compacted soils
The ideal pH is 5.8 to 6.8
Ideal temperature is 15-35 degree Celsius
The best time for harvesting is during the dry season
To get more information and valuable tips on onion farming, visit https://mahadhan.co.in/crop-portfolio/onion-farming/